Pilar Irrigation System
Secure your Cebu Bohol ferry tickets today to start your unforgettable journey!
Check out Now the best Bohol deals
The province of Bohol aims for a high production of irrigated rice. However, this goal has been accomplished much lower than what is desired because of the diminishing irrigation water for agriculture.
Seeing this need, the government's National Irrigation Administration (NIA) organized an action plan for the benefit of the Bohol Integrated Irrigation System (BIIS). This plan was prepared for some significant reasons and this includes: improving, monitoring, and evaluating operations; equity and efficiency in water distribution; strengthen NIA-Irrigator's Association (IA)-local government unit coordination; rehabilitation and upgrading irrigation facilities; and enabling demonstration farms on water-saving technologies be established.
To implement a project that would be able to improve the performance of irrigation systems and to increase water productivity is the major component of the action plan. With the NIA as the lead agency, a water-saving project team for Bohol was established to effectively implement the various activities and to achieve the project's goals.
The project aims to improve the performance of the irrigation systems and increase water productivity through promoting IRRC (Irrigated Rice Research Consortium) water-saving technologies to about 5,000 rice farmers.
Recommended Bohol Philippines Tours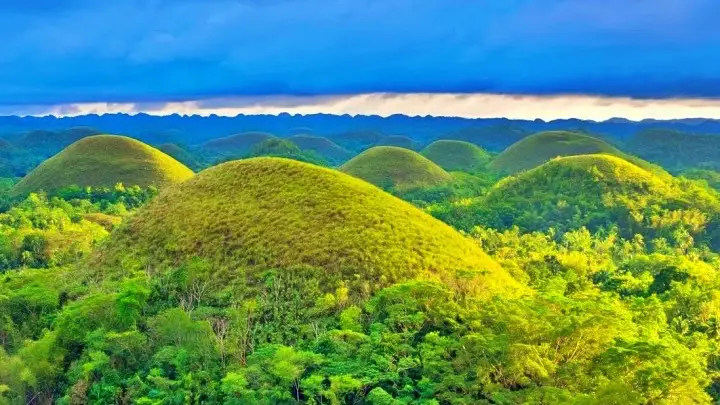 [ Bohol Sight Seeing Day Trips  - Check Out Availability ]
[ Full Day Cruise and Sailing Tours - Check out Availability ]
[ Full Day Adventure Tours - Check out Availability ]
Discover more of Bohol's natural wonders through our recommended tours. Click on the links below to embark on unforgettable adventures:
Ready to explore the beautiful islands of Cebu and Bohol? Secure your ferry tickets today through 12go and start your unforgettable journey!
Launch of water-saving project and its implementation
At a multipurpose training hall in Pilar, Bohol, the project was launched on December 21, 2005. The launching was participated by local and national representatives from the Department of Agriculture Regional Fiel Unit 7, NIA, Agricultural Training Institute, provincial and municipal local government units, Federation of Irrigator's Association, the Philippine Rice Research Institute (PhilRice), and by the Irrigated Rice Research Consurtium's (IRRC) Water-Saving Work Group from the International Rice Research Institute (IRRI).
Efforts were exerted since the launching of the project. Thirty one water-saving agents were trained in late December 2005, and two hundred Irrigation Association (IA) leaders were trained as water-saving officers in late January 2006.
IRRC technology of alternate wetting and drying (otherwise known as controlled irrigation) combined with hybrid rice trials were showcased at eighteen demonstration farms that were established. Nineteen workshops were then held in February by Engr. Billy Mejia of NIA. These workshops were conducted in local halls, market places, and even on churches. Farmers at about three thousand attended the workshops.
The project will increase the knowledge of technical personnel and farmers with respect to water saving in the water-scarce irrigated areas of Bohol. With local champions such as Billy Mejia and the provincial and local governments in Bohol playing such active roles, the irrigated rice farmers of Bohol stand to benefit from improved water-use efficiency, water productivity, and equity of water distribution from these irrigation systems. This means higher rice production and improved livelihoods for farm families in the region.
The Bohol Integrated Irrigation System
Covering a total area of 10, 260 hectares, three national irrigation systems are operated in the province of Bohol. These are the Capayas Irrigation System (CIS) located in Ubay, the Bohol Irrigation System 1 (BIS 1) in Pilar, and the Bohol Irrigation System 2 (BIS 2) located in San Miguel. The Malinao Dam of BIS 1, the Bayongan Dam of BIS 2, and the Capayas Dam of CIS are all reservoir-type dams. All systems were constructed with loans from the Japan Bank for International Cooperation.

The Town of Pilar
PILAR - An Exemplary Town
Share your Bohol Story!
How do you like these Bohol attractions? Do you have a great Bohol story? Tell all the world how lovely are the Bohol islands! Entering your Bohol story is easy to do. Just start typing! Add a photo or video if you want!
Check out for Bohol Hotel Deals
Back to Top: Pilar Irrigation System
Back to Bohol