San Miguel Bohol: A Hidden Gem of Natural Beauty and Cultural Heritage
Secure your Cebu Bohol ferry tickets today to start your unforgettable journey!
Nestled in the heart of Bohol, Philippines, the municipality of San Miguel beckons travelers with its serene landscapes and vibrant cultural traditions. Named after its patron saint, Saint Michael the Archangel, San Miguel offers a tranquil escape from the bustling city life. This travel guide will take you on a journey through the scenic routes, cultural celebrations, and agricultural livelihoods that define San Miguel's charm. 
Welcome to San Miguel, a captivating municipality in Bohol that offers a perfect blend of natural beauty and cultural charm. From the breathtaking Kawasan Falls and the tranquil Bayongan Dam and Mini Park to the mystical Langgam Cave and the vibrant towns of Mahayag and San Miguel, this travel guide will take you on a journey through the hidden delights of this enchanting destination.
Recommended Bohol Philippines Tours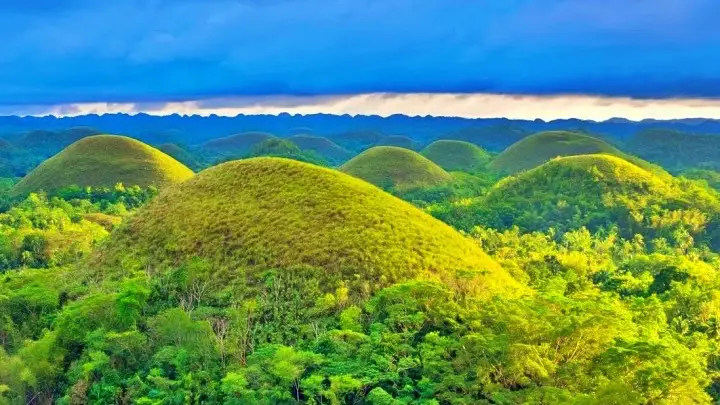 [ Bohol Sight Seeing Day Trips  - Check Out Availability ]
[ Full Day Cruise and Sailing Tours - Check out Availability ]
[ Full Day Adventure Tours - Check out Availability ]
Discover more of Bohol's natural wonders through our recommended tours. Click on the links below to embark on unforgettable adventures:
Ready to explore the beautiful islands of Cebu and Bohol? Secure your ferry tickets today through 12go and start your unforgettable journey!
1. Location and Accessibility:

San Miguel is situated 86 kilometers from Tagbilaran City, Bohol's capital, and can be reached within approximately 1 hour and 50 minutes by road. If traveling from Cebu City, docking at the Talibon pier brings you closer to San Miguel, which is only three towns away from Talibon. Public transportation, such as jeepneys and buses, ply the Talibon-San Miguel route, providing convenient access to the municipality. Traveling from Tagbilaran allows you to enjoy the scenic interior route, passing by stone churches, the famous Chocolate Hills, and expansive rice fields.
photo by ragde starr
Kawasan Falls, Trinidad: Embark on an adventure to Kawasan Falls, nestled in the town of Trinidad within the San Miguel municipality. Prepare to be mesmerized by the cascading turquoise waters surrounded by lush greenery. Take a refreshing dip in the natural pools, hike through scenic trails, or simply bask in the beauty of this majestic waterfall. Immerse yourself in nature's embrace and create unforgettable memories in this stunning paradise.
the Talibon pier: photo by Bong
Bayongan Dam and Mini Park: Experience tranquility and serenity at Bayongan Dam and Mini Park. This man-made marvel not only serves as a reservoir for irrigation but also offers a picturesque setting for relaxation. Enjoy a leisurely stroll around the park, marvel at the stunning views of the dam, and unwind amidst the serene ambiance. This hidden gem is an ideal spot for picnics and connecting with nature.
Langgam Cave: Unveil the secrets of Langgam Cave, a mystical underground wonder located in San Miguel. Explore the fascinating chambers adorned with impressive stalactite and stalagmite formations. As you venture deeper into the cave, feel the sense of adventure and wonder that accompanies this unique journey. Discover the hidden stories that lie within the depths of Langgam Cave.
Bohol circumferential road....photo by Bong
2. Cultural Heritage and Festivities:
The residents of San Miguel are predominantly Roman Catholic and proudly celebrate their feast day on May 8 with great enthusiasm. During this week-long festivity, religious and non-religious activities abound, including processions, the search for Ms. San Miguel, tournaments, and more. The town's church, located slightly inland, features a simple yet impressive façade adorned with a large stained glass crucifix and an image of Saint Michael. Immerse yourself in the rich cultural heritage of San Miguel as you witness the vibrant festivities.
photo by radge starr

3. Scenic Beauty and Agricultural Livelihoods:
Covering an area of 9,156 hectares, San Miguel is home to 18 barangays (villages), each with its own unique charm. The municipality thrives on agriculture, livestock raising, and traditional crafts such as hat and mat weaving. Farmers cultivate crops including rice, corn, camote, and cassava, while coconut plantations flourish throughout the region. Chickens and eggs are also essential agricultural products. The leaves of the "Romblon" plant are skillfully woven into hats and mats, showcasing the local craftsmanship. To bolster the economic growth and improve the living standards of farmers, the Bayongan Dam was constructed, ensuring a reliable water supply for ricelands and encouraging fish farming as an additional livelihood opportunity.
4. Charming Towns: Mahayag and San Miguel:
Within San Miguel, you'll find the charming towns of Mahayag and San Miguel itself. These towns come alive on market days, with the town market serving as a hub of commerce and community interaction. Engage with the locals, explore the bustling market, and experience the authentic Boholano way of life. The towns are a testament to the continuous progress and growth of San Miguel.
Bayongan Dam....photo by radge starr
Conclusion:
San Miguel, Bohol, offers a tranquil escape into nature's embrace while providing a glimpse into the rich cultural heritage and agricultural livelihoods of its residents. From the serene landscapes and agricultural wonders to the vibrant festivities and charming towns, this hidden gem invites you to discover the tranquility and warmth that define San Miguel's essence. Embark on a journey that combines natural beauty, cultural heritage, and heartfelt hospitality, and create memories that will last a lifetime.
San Miguel, Bohol, invites you to embark on an adventure that combines the marvels of nature with the warmth of its charming towns. From the awe-inspiring Kawasan Falls and the serene Bayongan Dam and Mini Park to the mystical Langgam Cave and the lively markets of Mahayag and San Miguel, this hidden gem has something for every traveler. Prepare to be captivated by the natural wonders, cultural heritage, and warm hospitality that await you in this enchanting municipality.