Cebu-Getafe ferry & Seaport

Secure your Cebu Bohol ferry tickets today to start your unforgettable journey!
Welcome to the Cebu-Getafe Ferry!
Situated near the center of the charming port town of Getafe, the Getafe Seaport serves as the gateway to this picturesque destination on Bohol's northern coast. Located just 92 kilometers from Tagbilaran City, the capital of Bohol province, Getafe offers a convenient and scenic travel experience. Traveling from Tagbilaran City to Getafe takes approximately two hours, allowing you to immerse yourself in the natural beauty and vibrant culture of this town.
The Getafe Seaport is easily accessible, with the pier only a few minutes' ride away. As you make your way to the port, you'll pass by the bustling market area, characterized by small stalls offering local products and delicacies. The proximity of the port to the town center makes it a convenient starting point for your journey to Getafe and its surrounding attractions.
With a land area of 9,980 hectares, Getafe is a vibrant town consisting of 24 barangays. Its coastal location provides a stunning backdrop for exploration, and the Getafe Seaport serves as a hub for ferry connections between Cebu and Getafe. Whether you're a local commuter or a traveler seeking to discover the hidden gems of Getafe, the Cebu-Getafe Ferry offers a convenient and enjoyable mode of transportation.
Prepare to embark on a memorable journey as you sail across the picturesque Bohol-Cebu strait. Get ready to explore the rich mangrove forests, visit the pristine Pandanon Beach, and immerse yourself in the warm hospitality of Getafe. So, sit back, relax, and enjoy the scenic views as the Cebu-Getafe Ferry takes you on an unforgettable adventure.
Cebu to Getafe Bohol Ferry Guide & Schedule

Whether you spell it Getafe or Jetafe, this small town in Bohol serves as the nearest jump-off point to get to Cebu. The ferry journey between these two islands takes less than two hours, offering a convenient and scenic mode of transportation. On clear days, you can even catch a glimpse of Cebu's high-rise buildings from Getafe.

While Getafe may not be a tourist hotspot yet, it does offer attractions worth visiting, such as the expansive mangrove forests, which are the largest in the country, and Pandanon Beach, a popular day trip destination for Cebuanos. To help plan your trip, we have compiled the ferry schedules, ticket prices, and other details for the Cebu to Getafe route below. It is advisable to purchase tickets online in advance, as this route is frequented by daily commuters.
Via Clemer Shipping Lines:

Cebu to Getafe Clemer Shipping Lines Schedule:

Daily departures at 6:30 AM, 7:30 AM, 9:00 AM, 10:30 AM, 12:00 NN, 1:30 PM, and 3:00 PM
Departure from: Cebu City Pier 1
Getafe to Cebu Clemer Shipping Lines Schedule:

Daily departures at 5:00 AM, 6:15 AM, 7:00 AM, 9:30 AM, 10:30 AM, 12:00 NN, and 3:00 PM
Departure from: Port of Getafe
Cebu - Getafe Ferry Ticket Prices:

Regular Price: 190 PHP
Student Price: 165 PHP
Senior Citizen Price: 155 PHP
Children (2-11 y/o) Price: 95 PHP
With Clemer Shipping Lines, the travel time between Cebu and Getafe is approximately one hour and 30 minutes each way. Please note that only passengers are transported on the motorboat, as it is not equipped for vehicles. The fares are affordable, and discounts are available for students, senior citizens, and children. Make sure to bring a valid ID to avail of the discounts. Book your Cebu to Getafe tickets online.
Via Oceanjet Ferry

Oceanjet Ferry Cebu to Getafe Schedule:

Daily departures at 8:15 AM, 11:00 AM, 2:00 PM, 5:00 PM, and 8:00 PM
Departure from: Cebu City Pier 1
Oceanjet Ferry Getafe to Cebu Schedule:

Daily departures at 6:30 AM, 9:30 AM, 12:30 PM, 3:15 PM, and 6:15 PM
Departure from: Port of Getafe
Cebu - Getafe Ferry Ticket Prices:

Cebu to Getafe Price: 446 PHP
Getafe to Cebu Price: 421 PHP
Oceanjet operates larger fastcraft vessels for this route, and like Clemer Shipping Lines, only passengers are allowed onboard. Each passenger is permitted to carry one bag, and additional fees may apply for exceeding this limit. The travel time for the Cebu to Getafe route is approximately one hour. Oceanjet tickets for Cebu to Getafe (and vice versa) can be purchased online.
Lite Ferry: Getafe Bohol - Talisay, Cebu Schedule
Here is the schedule for the ferry service between Getafe and Talisay City:
Departure: Jun 25 - Jul 8, 2023, at 8:00pm and 10:00pm (daily)
Vessel: Lite Ferry 26 and Lite Ferry 25
Port of Origin: Getafe Port
Port of Destination: Cebu South Harbor Port
Duration: 2 hours and 0 minutes
The ferry service provided by Lite Ferry offers convenient transportation between Getafe and Talisay City. With daily departures in the evening, passengers have flexibility in choosing their preferred time to travel. Lite Ferry 26 and Lite Ferry 25 are the vessels operating on this route.
Please note that the schedule provided is subject to change. It is advisable to confirm the departure and arrival times directly with Lite Ferry or check for any updates before planning your trip.
For more travel information, you can also refer to our Cebu to Tagbilaran ferry guide to help plan your trip to Bohol.

Getafe Seaport fast facts
Here are some fast facts about Getafe Seaport:
Seaport Name: Getafe Seaport
Location: 10°09'17.6"N 124°09'31.3"E
City: Getafe Town
Province: Bohol
Island: Bohol
Owned & Operated By: Philippine Ports Authority
Type of Harbor: Passenger Port | RORO Port

Wharfs: 1
Piers: 1
Shipping Companies: Ocean Jet | Lite Shipping Corporation Ferries
These facts provide a brief overview of Getafe Seaport, including its location, ownership, and the shipping companies operating at the port.
Recommended Bohol Philippines Tours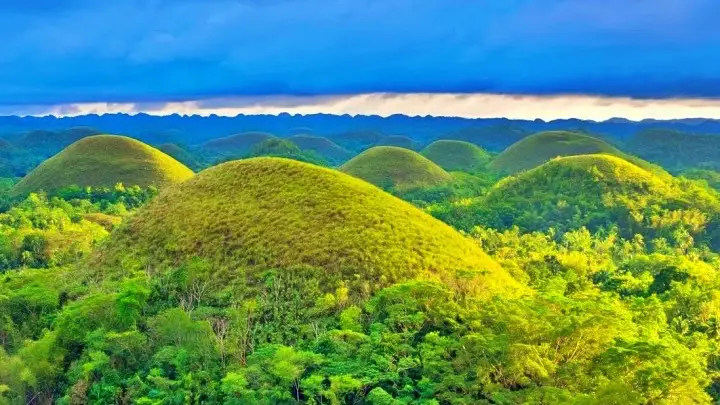 [ Bohol Sight Seeing Day Trips  - Check Out Availability ]
[ Full Day Cruise and Sailing Tours - Check out Availability ]
[ Full Day Adventure Tours - Check out Availability ]
Discover more of Bohol's natural wonders through our recommended tours. Click on the links below to embark on unforgettable adventures:
Ready to explore the beautiful islands of Cebu and Bohol? Secure your ferry tickets today through 12go and start your unforgettable journey!
By Ferry to Bohol from Other Islands


There are also a number of ferry companies that operate between Bohol and other islands in the Philippines, including Cebu, Dumaguete, and Siquijor. The ferry ride from Cebu to Bohol takes about 2 hours, and the ferry ride from Dumaguete to Bohol takes about 1 hour.

benefits of a better seaport
Rehabilitation of the port of Getafe will surely help boost up the economy, not only of the town, but of other northern towns of Bohol as well. Aside from RORO vessels, it will eventually play host to catamarans or fast ferries, like those plying the route to Tagbilaran and Tubigon.
Touring the Chocolate Hills, Sagbayan Peak, and other interior tourist spots is convenient for those who bring their own vehicle and much nearer when one takes the Mactan-Getafe route. But if your destination is Alona Beach at Panglao Island then it is better to take a RORO service bound for Tagbilaran City instead.
Another point to consider is that Getafe is only three (3) towns away from Ubay, the gateway to Leyte. The Cebu-Getafe, Bohol-Leyte-Manila route's travel time will be shorter compared to taking a RORO from Cebu direct to Ubay. Cebu to Ubay, Bohol takes more than four (4) hours travel time by boat.
Schedule of Trips from Mactan to Getafe, Bohol
Lite Shipping Corporation provides RORO services bound for Getafe, Bohol. It leaves from the port just past Mactan Hilton. Booking ahead is not necessary and cost is more or less P1500.00 including car and passengers. You are obliged to bring car documents, though, to prove ownership. Schedules may change without prior notice so it is better to contact Lite Shipping Corporation for the actual schedules.
Lite Shipping Corporation
Tel. Nos.:
(032) 253-7776
(032) 253-6857
(032) 414-9001 to 03