Tubigon, Bohol: Exploring Scenic Beauty and Rich Cultural Heritage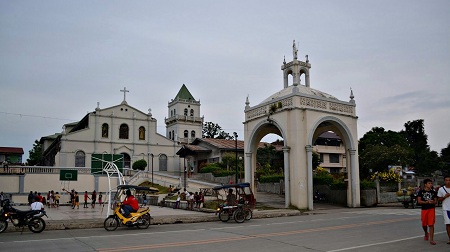 Secure your Cebu Bohol ferry tickets today to start your unforgettable journey!
Welcome to Tubigon, a hidden gem nestled on the western coast of Bohol, Philippines.
This picturesque municipality offers a captivating blend of scenic beauty and rich cultural heritage, making it a must-visit destination for travelers seeking an authentic Bohol experience.
Tubigon boasts breathtaking coastal views, pristine beaches, and a vibrant local community that warmly welcomes visitors.

Immerse yourself in Tubigon's history by visiting the old stone church, a prominent landmark perched on a hill that offers panoramic vistas of the town and its surroundings.
Engage with the skilled weavers at the Loom Weaving Center in Barangay Pinayagan Norte, where intricate products are crafted using traditional techniques.
Venture beyond Tubigon and discover the wonders of nearby attractions. Explore the enchanting Mundong Sandbar during low tide, where a stretch of white sand emerges from the crystal-clear waters.
Dive into the vibrant marine ecosystem of Dumog Island, teeming with colorful coral reefs and diverse marine life.
Tubigon beckons you to experience its scenic beauty, immerse in local traditions, and create unforgettable memories in the heart of Bohol.
tubigon bohol: what to do
Tubigon is a charming municipality and seaport located on the western coast of Bohol, Philippines.
With its scenic coastal views, rich cultural heritage, and proximity to Cebu, Tubigon offers visitors a delightful travel experience.
Here's a travel guide to help you explore the highlights of Tubigon:

Loom Weaving Center:
Visit the Loom Weaving Center in Barangay Pinayagan Norte, known as the loom weaving center of the province.
Skilled weavers create beautiful products using raffia fibers from buri leaves.
You can find a variety of raffia rolls, place mats, beach mats, and table runners with different designs and colors, perfect for souvenirs or gifts.
San Isidro Labrador Tubigon Church:

Visit the old stone Tubigon Church of San Isidro Labrador, a prominent landmark in the town.
Perched on a hill, it offers panoramic views of the public plaza, town market, and coastline. Admire its grand architecture, including a concrete approach and an old stone archway in front.
The feast day of Tubigon, honoring San Isidro Labrador, is celebrated on May 15, offering a glimpse into local traditions and festivities.
Mundong Sandbar:
Discover the stunning Mundong Sandbar, a natural wonder located near Tubigon.
This pristine sandbar emerges during low tide, creating a picturesque landscape of white sand and clear turquoise waters.
It's a perfect spot for beachcombing, swimming, and enjoying the beauty of the surrounding seascape.
Dumog Island:
Embark on a boat trip to Dumog Island, a serene and secluded paradise near Tubigon.
With its crystal-clear waters, vibrant coral reefs, and diverse marine life, it's a haven for snorkeling and diving enthusiasts.
Explore the underwater world, swim with colorful fish, and marvel at the beauty of this hidden gem.
Nearby Attractions:
Tubigon serves as a gateway to other popular tourist sites in Bohol.
Take day trips to Sagbayan Peak, known for its panoramic views of the Chocolate Hills, or visit Danao Adventure Park for thrilling outdoor activities such as zip-lining, rappelling, and river kayaking.
Don't miss the pristine beaches of Anda and the historical attractions of Balilihan and Bilar.
During your visit, respect the local customs and traditions.
Tubigon's picturesque surroundings, cultural landmarks, and warm hospitality guarantee a memorable experience in the heart of Bohol, Philippines.
Recommended Bohol Philippines Tours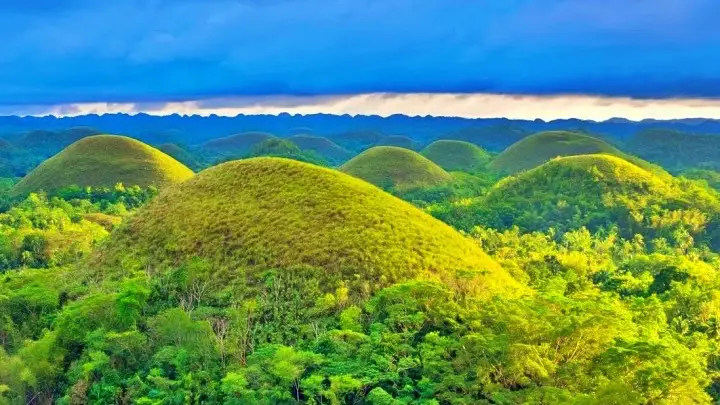 [ Bohol Sight Seeing Day Trips  - Check Out Availability ]
[ Full Day Cruise and Sailing Tours - Check out Availability ]
[ Full Day Adventure Tours - Check out Availability ]
Discover more of Bohol's natural wonders through our recommended tours. Click on the links below to embark on unforgettable adventures:
Ready to explore the beautiful islands of Cebu and Bohol? Secure your ferry tickets today through 12go and start your unforgettable journey!
Cagban Island Mangroves
Discover the Excitement of Cagban Island Mangroves in Tubigon, Bohol!
1. Go Bat-Watching:
Immerse yourself in the captivating world of flying foxes by embarking on a thrilling bat-watching adventure. Explore the extensive mangrove forests that serve as their natural habitats and witness these magnificent creatures in action.
2. Take a Boat Tour:
Hop aboard a boat tour and cruise through the biodiverse forest shallows of Cagban Island. Marvel at the vibrant marine life thriving within the mangroves, including a variety of fish species and fascinating creatures like the Philippine Duck and Rufous Night Heron.
3. Indulge in Local Delights:
Treat your taste buds to a delectable food buffet at the reception center on Cagban Island. Sample the mouthwatering flavors and culinary delights that Tubigon town has to offer, immersing yourself in the local gastronomy.
4. Participate in Mangrove Planting:
Contribute to the preservation of this precious ecosystem by taking part in ongoing mangrove planting activities. Join hands with local conservation efforts and leave a positive impact on the environment during your visit.
Don't miss the opportunity to explore the hidden wonders of Cagban Island Mangroves. Whether you're seeking wildlife encounters, scenic boat rides, culinary delights, or a chance to give back to nature, Cagban Island Mangroves offers an unforgettable experience in Tubigon, Bohol.
Mangrove Adventure in Tubigon, Bohol
Embark on a Captivating Mangrove Adventure in Tubigon, Bohol!
1. Explore Lush Mangrove Forests:
Venture into the enchanting mangrove forests that line Tubigon's coast. Immerse yourself in the beauty of these thriving ecosystems, home to a diverse array of marine life. Witness the unique interplay between land and sea as you wander through the lush greenery.
2. Encounter Marine Wildlife:
Discover a vibrant underwater world as you explore the mangroves. Observe the rich biodiversity that thrives here, from colorful fish to fascinating crustaceans. Keep an eye out for the iconic blue crab, a local specialty, which finds its sanctuary within these mangrove habitats.
3. Support Sustainable Fishing:
Gain insights into the crucial role that mangroves play in supporting the local fishing industry. Learn how these coastal forests serve as crucial spawning, nursery, and feeding grounds for numerous fish species. Understand the importance of sustainable fishing practices and the conservation of these vital habitats.
4. Engage in Mangrove Conservation:
Join hands with local conservation efforts by participating in mangrove conservation initiatives. Contribute to the preservation and restoration of these valuable ecosystems through activities such as mangrove planting. Leave a positive impact on the environment and support the long-term sustainability of Tubigon's mangroves.
5. Embrace Cultural Heritage:
Immerse yourself in the rich cultural heritage of Tubigon, where the close connection between the community and mangroves is deeply rooted. Engage with local fishermen and communities to gain a deeper understanding of their way of life and the importance of mangrove conservation in their traditions.
Experience the wonders of Tubigon's mangroves, where nature's beauty intertwines with cultural significance. Through exploration, education, and active participation, you can make a difference in preserving these valuable coastal ecosystems for future generations to enjoy.
local delicacies

In Tubigon, you can indulge in some delightful local delicacies that showcase the unique flavors of Bohol. Here are a few delicacies worth trying:
1. Lambay Crabs:
Tubigon is known for its delicious "lambay" crabs, which are prized for their succulent meat and sweet flavor. These crabs are often cooked in various ways, such as steamed, grilled, or stir-fried, allowing you to savor their natural taste.
2. Calamay:
A popular Boholano delicacy, calamay is a sweet sticky rice cake made from glutinous rice, coconut milk, and sugar. It has a smooth and gooey texture, with a rich coconut flavor. Calamay is often enjoyed as a snack or dessert.
3. Budbud:
Another delightful rice cake, budbud is made from sticky rice wrapped in banana leaves and steamed. It is typically served with sikwate, a hot chocolate drink made from locally sourced cacao beans. The combination of the soft and sticky budbud with the rich and creamy sikwate is a match made in heaven.
food & drink
The food and drink scene in Tubigon offers a diverse range of options to satisfy your cravings. Whether you're looking for a quick bite at a fast food joint or a leisurely dining experience at a restaurant, Tubigon has something to offer. Here are some notable establishments to explore:

Fast Food:

Bazak and McDonald's, located on Tagbilaran North Road and Sulpicio Falcon Street respectively, provide familiar fast food options for those seeking quick and convenient meals.
Pork and Chicken is another fast food option on Sulpicio Falcon Street, offering tasty pork and chicken dishes.
Turks Food Cart, situated in Alturas Supermarket Tubigon, is a popular choice for delicious Turkish street food.
Restaurant:
Fumagalli Pizza on Tagbilaran North Road serves up delectable pizzas, perfect for a casual dining experience.
JJ's Foodstream & Restaurant on Jesus Vano Street is a local favorite, offering a variety of dishes. Their opening hours are from Monday to Sunday, 8:00 AM to 6:00 PM.
Whether you're in the mood for a quick snack or a sit-down meal, Tubigon's food and drink scene has something for everyone. Explore these establishments and discover the flavors of Tubigon during your visit.
tubigon history
Embark on a journey to Tubigon, a town in Bohol with a rich history and vibrant community. The recorded existence of Tubigon dates back to the early 17th century when settlers were drawn to its abundant natural resources. These early Malays, believed to be descendants of Southeast Asian migrants, established their homes along the riverbanks of Tubigon. The place was initially called "Tubigan" due to its water-filled surroundings, eventually evolving into the name "Tubigon," meaning a place abundant in water.

In 1816, the settlers organized themselves under a headman called "Cato" and began building a community. The town was officially recognized in 1819 and gained independence from Calape, with Teniente Matong as its first Gobernadorcillo or "Capitan." The community's religious needs were attended to by Spanish friars from Calape, who administered baptisms and held Sunday masses.
Over the years, Tubigon continued to develop and expand its boundaries. The authorities established fixed boundaries with neighboring towns, including Inabanga, Calape, Catigbi-an, and Antequera. Despite losing five barrios to the newly created town of Clarin, Tubigon has thrived and transformed into a progressive community.
Experience the charm and history of Tubigon as you explore its cultural heritage and interact with its welcoming residents. Secure your ferry tickets today and embark on an unforgettable journey to this fascinating town in Bohol.
getting There & around

Getting to Tubigon:
1. By Ferry: Tubigon is easily accessible by ferry from various ports. If you're coming from Cebu City, you can take a ferry that operates regular trips between Cebu and Tubigon. The ferry journey usually takes around 1.5 to 2 hours. Additionally, there are ferry services available from other destinations such as Dumaguete, Tagbilaran, and other nearby islands. Ferry tickets can be booked in advance to secure your preferred schedule.
2. By Bus: Another option to reach Tubigon is by bus. Ceres buses provide routes to Tubigon from different parts of Bohol, including Tagbilaran City and other towns. If you're coming from Talibon, you can take a Ceres bus that travels to Tubigon. Bus travel may take longer compared to the ferry, but it offers a comfortable and convenient land transportation option.
3. By V-Hire Van: V-Hire vans are popular for intercity travel in the Philippines. There are V-Hire van services available that operate between Tubigon and nearby towns and cities. These vans offer a quicker and more direct mode of transportation compared to buses. You can find V-Hire terminals in major transport hubs or inquire with local travel agencies for schedules and fares.
Getting Around Tubigon:
1. Tricycles: Tricycles are the primary mode of transportation within Tubigon town. They are motorized three-wheeled vehicles that can take you to different parts of the town. Tricycle fares can be negotiated with the driver before your trip.
2. Pedicabs: Pedicabs, which are bicycle-driven carts, are another option for short-distance travel within Tubigon. They are a slower but more environmentally friendly mode of transportation. You can find pedicabs near the town center or major landmarks.
3. Walking: Tubigon is a relatively small town, and many attractions are within walking distance. Exploring on foot allows you to immerse yourself in the local atmosphere and discover hidden gems along the way.
4. Private Vehicles: Renting a motorcycle or car provides more flexibility and independence in getting around Tubigon. There are rental services available in the town where you can choose from a variety of vehicles.
As you navigate Tubigon, consider planning your itinerary in advance and taking into account the distances between attractions to optimize your time and transportation choices.
Top of Tubigon