Catigbian Hailed As Best Market for 2008
Secure your Cebu Bohol ferry tickets today to start your unforgettable journey!
Lauded for having outstandingly set up sustainable quality standards in its marketplace, Catigbian was conferred with the Best Market Award for 2008. The town's local administration patiently implemented policies adhering to prescribed standards by the Department of Trade and Industry.
The stringent implementation of policies paid off! Catigbian is now hailed as the Best Market after complying with fair trade laws such as price tags, weights and measures; improvement of the marketplace; strict adherence to social commitment and responsibility by implementing complaints and redress mechanism.
Aside from implementing the "No Permit, No Display" policy, laminated business permits were a must. Price tags were ordered to be visibly displayed, price monitoring boards were set up, and market bulletins installed.
"Timbangan Ng Bayan" scales were periodically checked and all weighing scales in the marketplace have to be calibrated on a one-on-one basis. A "Consumer Welfare Desk" was put up and each market section was color-coded for easy identification.
Cleanliness in all areas was imposed. Garbage cans or containers have to be covered and placed in designated locations. No obstructions are allowed in passageways and aisles. A better drainage system was adapted and the market's drainage culverts were revamped to assure the smooth flow of wastes and thus eliminate foul odor.
Not satisfied with these accomplishments, Catigbian installed a public address system, modern cash registers for market collection booths and even dispensed with free health services during market days.
Recommended Bohol Philippines Tours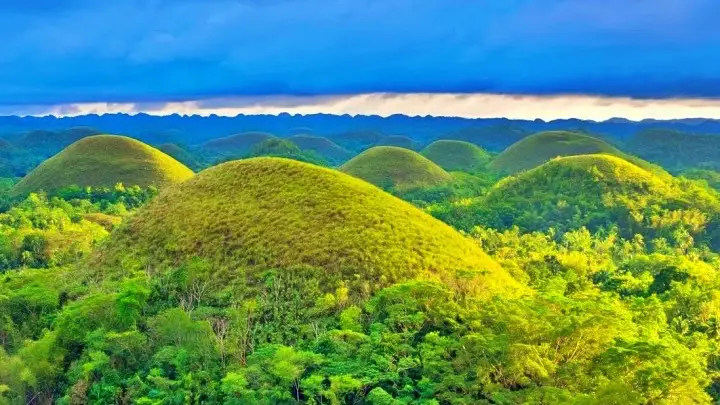 [ Bohol Sight Seeing Day Trips  - Check Out Availability ]
[ Full Day Cruise and Sailing Tours - Check out Availability ]
[ Full Day Adventure Tours - Check out Availability ]
Discover more of Bohol's natural wonders through our recommended tours. Click on the links below to embark on unforgettable adventures:
Ready to explore the beautiful islands of Cebu and Bohol? Secure your ferry tickets today through 12go and start your unforgettable journey!
The award was conferred upon the Catigbian local government officials headed by Mayor Roberto Salinas from DTI Regional Director Asteria Caberte and Provincial Director Ma. Elena Arbon at the Island City Mall on November 27, 2008.
From 11 markets vying for the Best Market Award namely: Catigbian, Jagna, Guindulman, Ubay, Talibon, Carmen, Inabanga, Tubigon, Loon, Antequera and Tagbilaran City; Ubay ran 2nd and Tubigon, 3rd. The other towns who made it to the "Finalists" were Inabanga, Antequera, Talibon, Guindulman and Jagna.
Bagging the first prize is a feat by the Catigbianons after winning only 2nd place in 2006, 2nd to Ubay. Yet it bested Ubay in the regional competitions when it won the slot for 3rd Best Market after Bayawan City of Negros and Pardo of Cebu of that same year.
Catigbian's market lags behind the other town's modern and updated infrastructures since its market building is old and hails back to the post-war era. Mayor Salinas believes though that it is not the building that delivers the honor but the dedicated effort of the local leaders to uphold proper customer services.
Thus the Market Administrator, Cresilda Rulida,who is also the assistant municipal treasurer, together with her staff of revenue collection clerks, utility workers and market collectors should be lauded likewise for a job-well-done. Without their dedicated efforts, Catigbian would have not bagged the Best Market Award for 2008.
Catigbian Bohol Destination Guide
About Catigbian: Facts and Profile
Catigbian History: From Dirt to Gold
Katigbawan Festival of Catigbian
Catigbian: Bohol's Livestock Capital
Catigbian's 2008 Beauty Pageants
The Bamboo Products of Catigbian