About Catigbian: Facts and Profile
Secure your Cebu Bohol ferry tickets today to start your unforgettable journey!
Catigbian is geared towards further development. Its profile shows the constant drive and dedication by local leaders for the town's development. Existing infrastructure have been improved, an additional public high school has been established, waterworks system expanded and much more.
Catigbian has a literacy rate of 87.9%. The town has one (1) Tertiary School offering college courses: the Bohol Northwestern Colleges. There are five (5) secondary schools: two (2) private, the Holy Child Academy and the Immaculate Mary Academy; the three (3) public high schools are: Mantacida High School, Catigbian National High School and the newly approved Haguilanan High School. There are 19 public elementary schools, 3 primary schools and 22 Day Care Centers.
Business activity is centered in the Poblacion, especially near the Catigbian Public Market which recently bagged the Best Market Award of 2008. In 2006, it was also hailed as the 3rd Best Pamilihan in Region VII. The town is also home to the Livestock Auction Center which is the biggest in the province and likewise the biggest in Region VII.
The town also operates an abattoir (or slaughterhouse); has in place the Catigbian Waterworks System with three (3) pumping stations for 12 barangays while two (2) more barangays have their own pumping stations. The One Town One Product (OTOP) Display Center which carries quality bamboo furniture and accessories has also been established.
The following financial institutions support the business activities in the municipality: First Consolidated Bank, Mantacida Coop Savings Bank and Bagtic Coop Savings Bank.
It has two (2) cellular sites (Smart and Globe), two (2) public calling offices and the Philippine Postal Office taking care of the communications. Landline phones are available at the Mayor's Office, at the Bohol Northwestern Colleges and the Bagtic Masagana Multi-Purpose Cooperative.
Other facilities include: the Catigbian Training Center, the Municipal Court Hall, the Municipal Conference Hall, the Public Market, a tennis court, a multi-purpose court that serves as a basketball court and a venue for other activities, the Catigbian District Hospital and the Municipal Health Center.
The Municipal Health Center has two (2) ambulance cars that offer free service to local inhabitants. The center is geared towards further improvement and expansion with a P15M budget for a new 2-storey hospital building wherein the World Bank will fund the operation as stipulated in an agreement with Mayor Salinas.
This is all being done in an effort to provide the best health services to its constituents. In addition, regular consultations are done in each of the barangays, 10 Botika sa Barangays and 22 Barangay Health Centers were put up with a functional Local Health Board; and in compliance with existing laws, local projects for community birthing centers have been put up.
Protective services are rendered by the local Police Force, the Barangay Tanods and reservists with a functional Peach and Order Council. In case of fire, the town has able firefighters and sufficient fire equipment.
Alienable and disposable land in Catigbian stretches to 8,950.7032 hectares; 43.85% devoted to crops, 56.15% are pasture, grass and idle lands. Catigbian forest covers 2,351 hectares. People are into farming and livestock raising.
Rainfall is evenly distributed throughout the year and like the rest of Bohol, Catigbian has a favorable climate which is conducive to the raising of crops and the like.
Reference: http://www.catigbian.gov.ph
Catigbian History: From Dirt to Gold
Katigbawan Festival of Catigbian
Catigbian Hailed As Having The Best Market for 2008
Catigbian: Bohol's Livestock Capital
Catigbian's 2008 Beauty Pageants
The Bamboo Products of Catigbian
Recommended Bohol Philippines Tours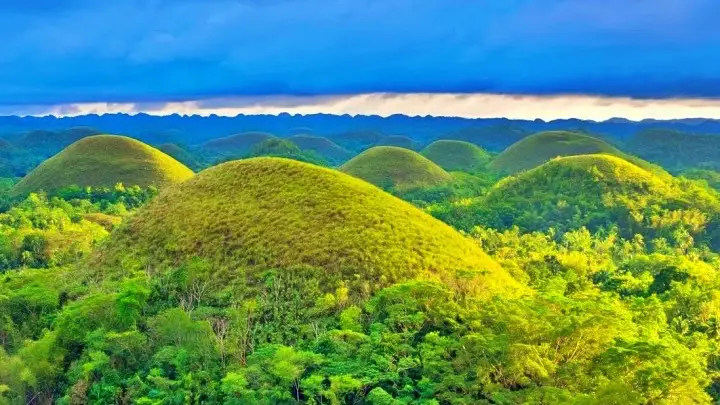 [ Bohol Sight Seeing Day Trips  - Check Out Availability ]
[ Full Day Cruise and Sailing Tours - Check out Availability ]
[ Full Day Adventure Tours - Check out Availability ]
Discover more of Bohol's natural wonders through our recommended tours. Click on the links below to embark on unforgettable adventures:
Ready to explore the beautiful islands of Cebu and Bohol? Secure your ferry tickets today through 12go and start your unforgettable journey!