Bohol Escapade Packaged Tour
(4Days/3Nights) as low as PhP7,964.00/head of 3 persons
An all-in-one Bohol Vacation Package! For a 4D/3N stay in our partner hotel,Tierra Azul, visit Bohol's major countryside attractions and experience the thrilling pursuit of dolphins plus Balicasag Island hopping!
For only P7,964.00/head minimum of 3 persons during low season although much higher during peak season. This Bohol Escapade Package Tour includes Airconditioned Accommodation for 4 days and 3 nights, Round Trip Transfers, Daily Breakfasts, and 2 Tours: the Chocolate Hills & Countryside Tour and Island Hopping with Dolphin Watching & Unlimited Snorkeling. Both tours are lunch inclusive! Snorkel Gadgets, Entrance Fees, Taxes and DOT Accredited Tour Guide are also part of the package.
Prices are lower with more in the group. Tell us how many you are and we will quote you the price per head.
Stated package rate above is subject to change without prior notice. If hotel required is other than Tierra Azul, price of the package will be adjusted basing upon the room rates of the hotel wanted. Other hotels do not offer free breakfast, so package conditions may be affected too. Prices are confirmed once paid and so will not be subject to any untoward price changes.
Below is the quotation for for 1-10 persons and the rate of the package per head while booked at different resorts/ hotels. I would like to emphasize that these resorts are our partner resorts.
For detailed quotation of your chosen package, please email Mr. Elgar John "EJ" Buno.
E-mail address:
ejb@bohol-philippines.com
.
All rooms of any resorts are subject for its availability.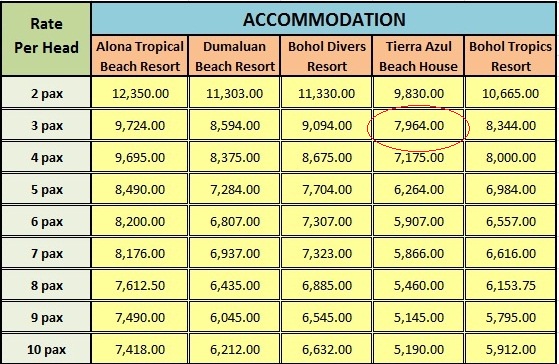 INCLUSIONS:
Airconditioned Accommodation for 4 days and 3 nights
Daily Breakfasts
Chocolate Hills & Countryside Tour

All Entrance Fees Paid
DOT Accredited Tour Guide
Buffet Lunch during Countryside Tour
Airconditioned Transporation

Island Hopping with Dolphin Watching & Unlimited Snorkeling

DOT Accredited Tour Guide & Spotter's Fees
Entrance Fees
Snorkel Gears
Boat Transfers
Lunch at Balicasag Island

Round Trip Transfers
---
ITINERARY: Day 1: Arrival
Tagbilaran Airport or Seaport Pick Up then to our partner hotel.
Tour In-charge will help you settle at chosen accommodation.
Spend the rest of the day at your leisure.
Meals: None.
Enjoy your own seafood dinner and nightlife on Alona Beach! There are many places at all price range to choose.
Transfers: Airport pick up then on towards our partner hotel based at Alona, Panglao Island.
Notes: Travel time from airport to -.
Tagbilaran City hotels & resorts: 5-10 minutes.
Panglao Island hotels & resorts: 30-45 minutes
Day 2: Chocolate Hills & Countryside Tour
7:00 - Breakfast.
8:00 - Chocolate Hills & Countryside Tour begins
Places to Visit:
Notes: Tour Guide will wait for you at the lobby. Front desk will inform you of your guide's arrival. The whole day tour will begin at 8:00am and end at 4:00pm.
Day 3: Dolphin Watching & Island Hopping
5:00 Breakfast or can arrange for packed breakfast..
5:45 Tour departs for a whole day island hopping and dolphin watching, if one is lucky.

Pursuit dolphins and watch them as they frolic in the blue expanse of the Bohol Sea guided by former hunters turned tour guides on board hunting boats now refitted for the comfort of tourists! Spot the Risso's dolphin, the playful spinner dolphin, the bottlenose dolphin, the spotted dolphin and the Fraser's dolphin. But mind you, the chance of seeing dolphins frolic at the surface is not 100% sure.
Once satisfied with the dolphin watching, Balicasag, here we come! Hop on to this island for unlimited swimming and snorkeling. Explore! The island is circular and flat, covered with palm trees and flowering bougainvilleas bordered by a white sand beach. One can go around the island in 45 minutes. And not only that, the island is surrounded with some of the best diving spots in the Philippines and 400 meters of it declared as a protected marine sanctuary thus you will see rare species of marine life in the area.
Lunch is then served after snorkeling.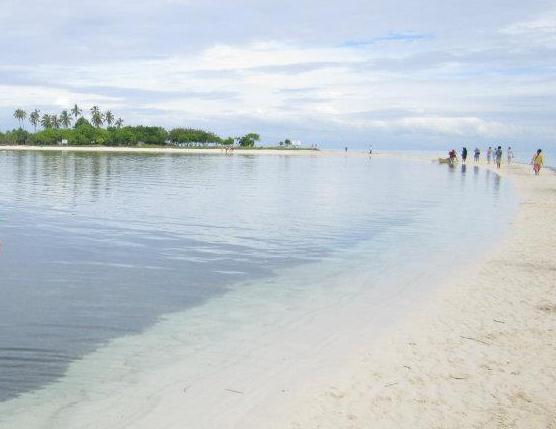 Visit another interesting island, the Virgin Island. This island is know for its very long sandbar of powdery-white sand and crystal clear waters. No one lives in the island, thus referred as "virgin". When the tide is high, the sandbar is just few inches below the water which is perfect for kids and adults alike.
All Bohol Vacation Package activities lasts earlier than 3 PM and then one heads for the resort or hotel.
Day 4: Relax
Breakfast

Spend the rest of your stay at your leisure.
Meals: Free Breakfast
Transfers: Resort/Hotel to Airport/Seaport

---
Booking and Reservation Request
Fill up the form below and our Travel Consultant will get back to you as soon as possible. Only after confirmation will you receive instructions on how to finalize your reservation.
Please allow 15 working days lead-time before arrival for us to process your request. Last Minute Bookings may have extra charges.
Or, you can directly call/email EJ Buno for immediate booking with the number/email below:
Mobile Number : (+63) 9294528693
E-mail Address: ejb@bohol-philippines.com

Notes:
All Rates are subject to change without prior notice.
Confirmed Bookings will require Full Prepayment.
All Bohol Packaged Tours are non-refundable.
Room package dictates that for more than two guests, 3 persons are assigned to a room (twin beds and extra mattress) to be able to get the lowest rate possible. Yet if guests prefer a room each, then package price will be adjusted accordingly.
Hotel/Resort Standard Check out time is 12:00 NN
Transfers to/from Airport and Seaports are included in the package. Pick Up Time: Flight Departures is 2 ½ hours prior to Estimated Time of Departure and Seaport Departures is 1 ½ hour prior to Estimated Time of Departure.
Transfers outside the package routes or the scheduled time should be booked earlier and may be subject to additional charges.
Acceptable Payment by (1) Bank Transfer, (2) Cash Payment, (3) PayPal, or (4) Credit Card.
Please read our Tour Payment Policies
Expedia - Buy airline tickets and reserve a hotel!
Chocolate Hills Countryside Tour Chocolate Hills Countryside Musical Tour Bohol Extreme Adventure & Countryside Packaged Tour Day Tours Only
Back to Top of Bohol Escapade Package Tour
Back to Bohol Homepage
---
---
travel deals | bohol hotels | bohol | bohol hotels | tagbilaran | panglao | jagna | loboc | alona beach | talibon | tubigon | olango | bohol diving | bohol travel | bohol photos | bohol island | bohol sea | bohol fiestas | t.o.s. | privacy | sitemap
Philippines Travel | Philippine Music