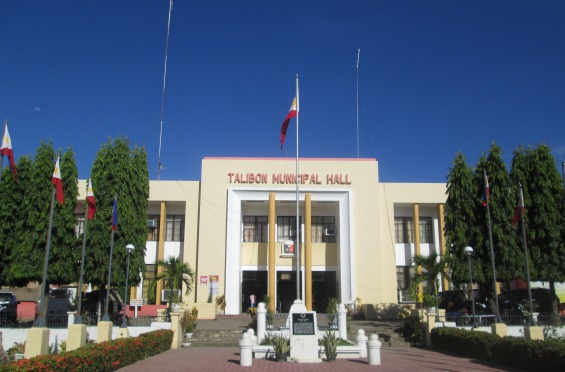 Explore the Thriving District of Talibon, Bohol | Visit Talibon Today!
Secure your Cebu Bohol ferry tickets today to start your unforgettable journey!
Welcome to the Municipality of Talibon, a thriving town located on the northeastern coast of Bohol, Philippines. With its rich history, vibrant community, and abundant natural resources, Talibon has become a progressive destination for both locals and tourists alike.
Talibon was established as an independent municipality in 1830, formerly part of Inabanga. Today, it consists of 25 barangays, 17 located on the mainland and 8 on nearby islands, with a total population of 61,690. The town covers an expansive area of 22,400 hectares, offering diverse landscapes and attractions to explore.
At the heart of Talibon is the Blessed Trinity Parish, with the feast day of the Blessed Trinity celebrated every last Saturday of May. The town also serves as the seat of the Diocese of Talibon, making it an important religious center in the region.
With its agricultural and fishing industries, Talibon sustains its economy through the production of rice, corn, copra, bananas, and other root crops. The town has also attracted investors, both local and foreign, with opportunities for business and entrepreneurial ventures. The presence of the Alturas Group of Companies, which has established a mall in the area, further contributes to its economic growth.
Talibon offers a variety of activities for visitors. Fishing, seaweed farming, and the production of fish traps, hats, and pottery are local trades that showcase the town's cultural heritage. The abundance of natural resources, including silica, gold, clay, diorites, sand, and gravel, has also driven the growth of quarrying businesses.
In terms of communication and technology, Talibon provides access to various facilities such as telecommunications services, a post office, courier services, and internet cafes. Educational institutions, including Blessed Trinity College and several high schools, ensure that quality education is readily available to the community.
When visiting Talibon, you can reach the town by land via Tagbilaran City, the capital of Bohol, through either the eastern or western exit of the Bohol Circumferential Road. It is also accessible via the interior road via Loboc or by boat from Cebu with a direct route or via Tubigon, followed by a land trip to Talibon.
Whether you're exploring the town's historical landmarks, immersing yourself in the local culture, or indulging in its natural beauty, Talibon offers a warm and welcoming experience. Discover the charms of this progressive municipality and create lasting memories in the heart of Bohol.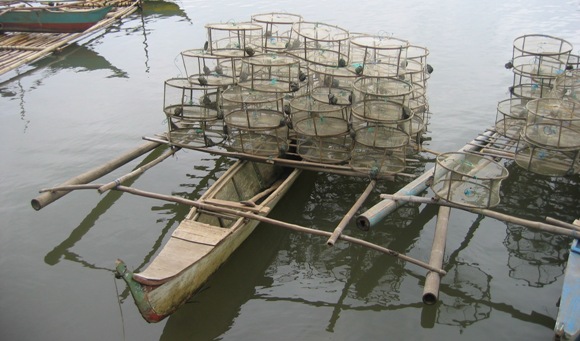 Recommended Bohol Philippines Tours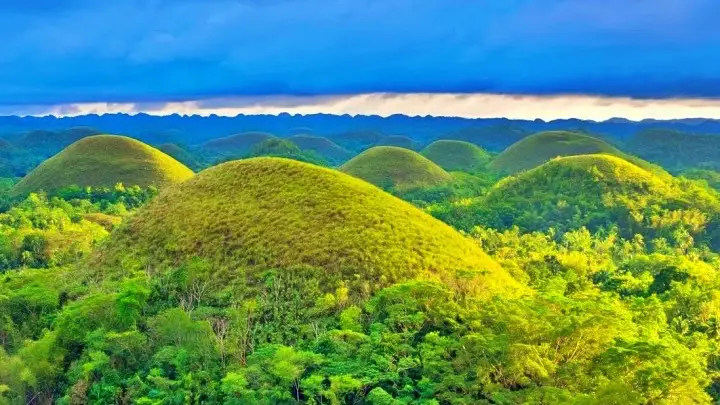 [ Bohol Sight Seeing Day Trips  - Check Out Availability ]
[ Full Day Cruise and Sailing Tours - Check out Availability ]
[ Full Day Adventure Tours - Check out Availability ]
Discover more of Bohol's natural wonders through our recommended tours. Click on the links below to embark on unforgettable adventures:
Ready to explore the beautiful islands of Cebu and Bohol? Secure your ferry tickets today through 12go and start your unforgettable journey!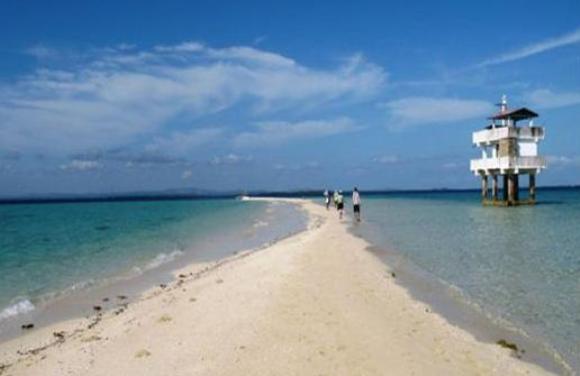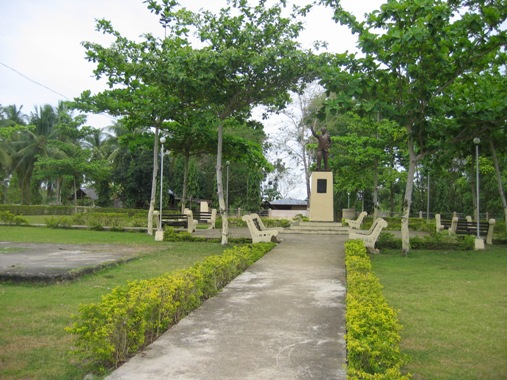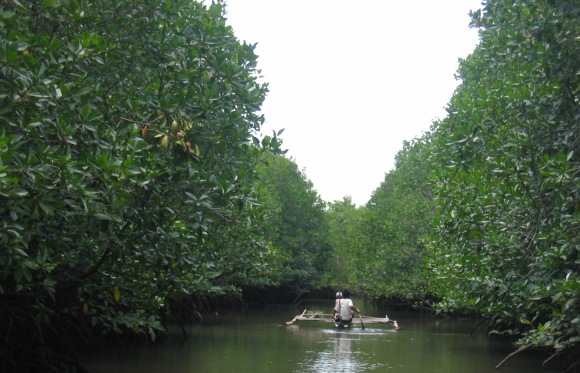 talibon bohol attractions
Talibon, a municipality in Bohol, Philippines, offers a range of attractions that appeal to both locals and tourists. From historic sites to natural wonders, here are some highlights of what Talibon has to offer:
1. Carlos P. Garcia Monument and Park:
Visit the birthplace of Carlos P. Garcia, the 4th President of the Philippines. This historic site commemorates his significant role during the guerilla movement and his presidency.
2. Bongan Sandbar:
Explore the pristine Bongan Sandbar, a breathtaking white sandy beach surrounded by crystal-clear waters. It's an ideal spot for swimming, snorkeling, and scuba diving.
3. Danajon Bank:
Discover the Danajon Bank, the Philippines' only double barrier reef and one of the few in the world. This rare geological formation is home to a diverse marine ecosystem and offers opportunities for diving and exploring.
4. CRM Interpretive Center:
Learn about the conservation and management efforts for Danajon Bank at the Fisheries and Coastal Resource Management Interpretive Center. The center features educational exhibits, including a 3D model of Danajon Bank.
5. Talibon Mangroves:
Experience the beauty of Talibon's lush mangrove vegetation. This eco-tourist destination covers 580 hectares and provides a unique opportunity to explore mangrove ecosystems.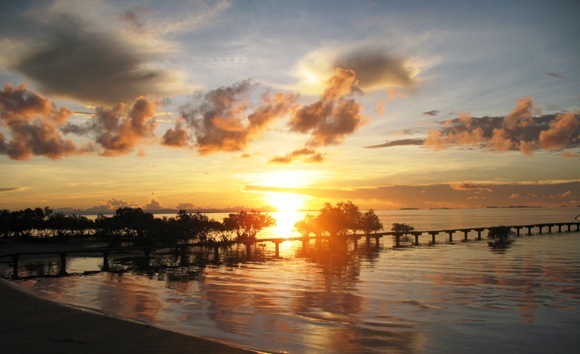 6. Ipil River:
Embark on a boating or kayaking adventure along the winding Ipil River. This scenic river offers fishing, swimming, and the chance to spot various bird species and playful monkeys.

7. Jayvee Long Beach Resort:
Relax and unwind at Jayvee Long Beach Resort in Mahaba. This developed island resort features crystal-clear waters, white sandy beaches, mangroves, and accommodations for visitors.
Visit the Most Holy Trinity Cathedral, located in the heart of Talibon. It's a beautiful landmark that holds religious significance in the community.
9. Talibon Sunsets:
Don't miss the stunning sunsets of Talibon. The town is known for its captivating views, offering a perfect opportunity to capture memorable moments.
This initiative aims to improve the living conditions of local fishermen and provides opportunities for visitors to rent paddleboats for eco-tours and island hopping.
11. Bisag Saging Basta Loving:
Experience the thriving banana plantations in Talibon. This project focuses on enhancing productivity, quality, and marketing of bananas, supporting local farmers.
Jao Island:
Jao Island is a scenic island located near Talibon, Bohol. It is known for its picturesque landscapes and tranquil atmosphere. The island is accessible by boat, and once you arrive, you'll be greeted by white sand beaches and crystal-clear waters. Jao Island offers a perfect escape for nature lovers and beach enthusiasts. You can relax on the beach, go swimming or snorkeling to explore the vibrant marine life, or simply enjoy the serene surroundings. The island's untouched beauty and peaceful ambiance make it an ideal destination for those seeking a peaceful retreat away from the bustling crowds.
Calituban Reef and Wildlife:
Calituban Reef and Wildlife is a nature lover's paradise located in close proximity to Talibon. This reef is home to a diverse range of marine species and offers excellent opportunities for snorkeling and diving. As you explore the underwater world, you'll come across colorful coral formations, tropical fish, and other fascinating marine creatures. The reef is carefully preserved, and visitors are encouraged to practice responsible tourism to help protect the fragile ecosystem. Apart from the reef, Calituban also boasts lush mangrove forests, which serve as a sanctuary for various bird species and other wildlife. Nature enthusiasts can embark on guided tours to learn more about the flora and fauna found in this area.
Nocnocan Island:
Nocnocan Island is a hidden gem located near Talibon, offering a tranquil and secluded island experience. The island is known for its pristine beaches, clear turquoise waters, and untouched natural beauty. It is an ideal spot for sunbathing, swimming, and beach picnics. Nocnocan Island is surrounded by vibrant coral reefs, making it a popular destination for snorkeling and diving enthusiasts. Exploring the underwater world reveals a kaleidoscope of colorful marine life, including tropical fish, corals, and other fascinating creatures. The island's serene ambiance and breathtaking views provide a perfect escape from the hustle and bustle of everyday life, allowing visitors to unwind and connect with nature.
Night Kayaking in Talibon I just discovered an amazing natural wonder in Bohol. We went kayaking on the island of Jau, Talibon, Bohol. At night when it is very dark and there is no moon, any movement in the water disturbs the plankton causing it to glow.
These nearby attractions near Talibon offer unique experiences for nature lovers, beach enthusiasts, and those seeking serenity amidst beautiful surroundings.

Talibon presents a diverse range of attractions, from cultural and historical landmarks to breathtaking natural wonders. Whether you're interested in exploring the town's heritage, indulging in outdoor activities, or simply enjoying the beauty of its surroundings, Talibon offers a memorable experience for every traveler.
talibon photo galleries
Talibon Bancas Photos A gallery of the typical double-outrigger customized canoes in the Philippines. Some have inboard engines, while some of the smaller ones use sail. These are multi purpose sea vehicles.
Talibon Sunsets Check out the beautiful sunsets in Talibon Bohol Philippines.

Talibon Fishpens Photos Fishing is a major industry in Talibon. Some local folks are also into seaweed farming.
Talibon Ancestral Houses This is a small gallery of ancestral houses in Talibon.
shopping and eating
In Talibon, there are various shopping and food options available for residents and visitors. While the town may not have large shopping malls, it offers a range of local establishments and markets where you can find necessities and enjoy local cuisine. Here's what you can expect:
1. Local Markets: Talibon has public markets where you can buy fresh produce, meat, seafood, and other food items. These markets are bustling with activity, and you can experience the local culture while shopping for your daily needs.
2. Alturas Mall: The town has a commercial center that houses various stores, shops, and establishments. Here, you can find a mix of clothing stores, convenience stores, hardware stores, and other small retail businesses.
3. Souvenir Shops: If you're looking for souvenirs or locally-made handicrafts, you can explore the souvenir shops in Talibon. These shops offer a range of products that showcase the local arts and crafts.
4. Local Eateries and Restaurants: Talibon offers a variety of local eateries, cafes, and restaurants where you can taste traditional Filipino and Boholano dishes. You can find local delicacies, seafood dishes, grilled specialties, and other Filipino favorites. Some establishments may also offer international cuisine.
5. Street Food: Like many towns in the Philippines, Talibon has street food stalls and vendors where you can indulge in affordable and flavorful snacks. Try popular street food such as fish balls, barbecued skewers, fried bananas, and more.
6. Local Bakeries and Pastry Shops: Satisfy your sweet tooth by visiting local bakeries and pastry shops in Talibon. They offer a selection of freshly baked bread, pastries, cakes, and local delicacies.
7. Local Specialty Products: Talibon is known for its agricultural products, such as bananas and root crops. Look out for local shops or stalls that sell these specialty products, allowing you to take home a taste of Talibon.
While Talibon may not have extensive shopping options compared to larger cities, it provides a unique and authentic experience where you can immerse yourself in the local culture, explore local flavors, and support small businesses.
Talibon History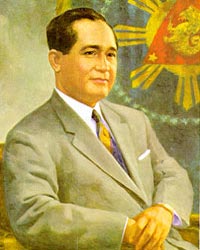 The name "Talibon" is believed to have originated from the word "talibong," which refers to a bolo or spear, often used in gold mining. The exact origin of the name is not recorded, but according to the travels of Jesuit missionary Fr. Juan de Torres, he visited the gold mines of Talibong. This suggests that the community already had its name prior to the arrival of the first Spanish missionary. Over time, the letter "g" was dropped, and the name "Talibon" became the prevailing form.
The Municipality of Talibon has a rich historical heritage that dates back to the Spanish colonial period and even earlier. Here are some key points about the history of Talibon:
- Christianization: Talibon's Christianization began before the arrival of Miguel Lopez de Legazpi in 1565. Survivors of the massacre that killed Ferdinand Magellan sought refuge in the area, becoming the first lay missionaries to the island of Bohol.
- Arrival of Spanish Missionaries: The Augustinian Recollects arrived in Bohol in 1565, followed by the Jesuits in 1596. When the Jesuits reached Talibon, they found a pre-existing Christian community that had formed through intermarriages with the Spanish-Talibongnon residents.
- Revolts: Talibon witnessed several revolts against Spanish rule. In 1622, Tamblot led a successful revolt that lasted for six months, making it the first unbeaten revolt in Philippine history. In 1744, Dagohoy led a revolt that resulted in the independence of Bohol for eighty years.
- Establishment of Dioceses: The Diocese of Tagbilaran was established on November 8, 1941, with jurisdiction over the entire province of Bohol. Later, on January 9, 1986, the Diocese of Talibon was created, separating half of Bohol from the Diocese of Tagbilaran.
- World War II: During World War II, Talibon had a guerrilla force that took control of the town. Carlos P. Garcia, who later became the 4th President of the Philippines, acted as a High Adviser to the group.
- Religious Significance: Talibon's early Christianization contributed to the deep religiosity of its people. The town is known for its strong faith and the loyalty of its residents to Christ and the church.
- Creation of the Town: The exact date of Talibon's creation as a town is still a subject of debate. Various documents and historians provide different accounts, ranging from 1722 to 1854. The creation of towns in the Philippines was often associated with the establishment of churches.
The Diocese of Talibon encompasses approximately half of the civil province of Bohol in the Philippines. It includes the towns of Inabanga in the northwest, Carmen in the interior, and Jagna in the southeast. The diocese's boundary extends inland, dividing the island either northwestward or southeastward. The remaining half of the island falls under the jurisdiction of the Diocese of Tagbilaran.
Today, Talibon is home to numerous parishes and has a thriving religious community. Its historical origins, although not precisely determined, contribute to the town's cultural significance in the province of Bohol.
The Municipality of Talibon in Bohol, Philippines gained prominence when one of its native sons, Carlos Polestico Garcia, became the 4th President of the Philippines. Previously a quiet and peaceful town, Talibon has gradually transformed into a vibrant district that provides numerous business and entrepreneurial opportunities for both local and foreign investors. Its development has attracted attention and interest from various sectors, contributing to its growth and economic prosperity.
some local Talibon Events
Talibon Foundation Day 2012 After 14 long years of research and diligent efforts to establish the Foundation Day of the Municipality of Talibon…..finally, the town celebrated its First Ever Foundation Day on April 22, 2012.
The Talibon Foundation Day – Why April 22? Research on the creation of Talibon, a municipality of Bohol in the Philippine Archipelago, actually started sometime in 1998 when the Sangguniang Bayan of Talibon requested for documents from the National Archives that could help ascertain the exact date of the creation of Talibon.
The 178th annual town fiesta of Talibon May 30-31, 2008. The Diocese of Talibon, led by Bishop, Msgr. Christian Vicente F. Noel, with the able leadership of the Parish Priest, Msgr. Ignacio H. Reyes, joined forces with the Local Government of Talibon, led by Municipal Mayor Juanario Item, to create a festivity worthy of the Most Triune God.
The feast of the Blessed Trinity or "Holy Trinity" is celebrated on the Sunday following Pentecost (the 50th day after Easter), a movable feast, so the curia of Talibon set it on the last day of May to facilitate the schedules of the "Balikbayans" who come home to celebrate the event.
Bohol Feast of the Blessed Trinity The love for the Blessed Trinity is deeply ingrained in the hearts of the Boholanos, who are deeply religious. This religiosity is expressed through feasts, both in the religious and social sphere, and is observed with much fanfare.
The Making of the Parish of Saint Augustine in Talibon Yes, a great Bohol event! An event of a lifetime! Who of you have attended a canonical erection of a church? In a lifetime, it is seldom that one can attend such an event for churches in Bohol have been established into parishes centuries ago with only a few chapels turned into parishes since then. Who would have imagined that one would be erected in my own neighborhood?
Top of The Municipality of Talibon
Talibon Accommodations
Water Gate Tourist Inn is a relatively new hospitality business geared towards providing comfortable lodgings to transient travelers and a function destination for up and going Talibonons.
Berachah inland resort is a newly opened resort in Bohol, sitauted at Brgy. Santo Nino,Talibon. This resort is located in a mountainous area that's why it offers one of a kind relaxation.
---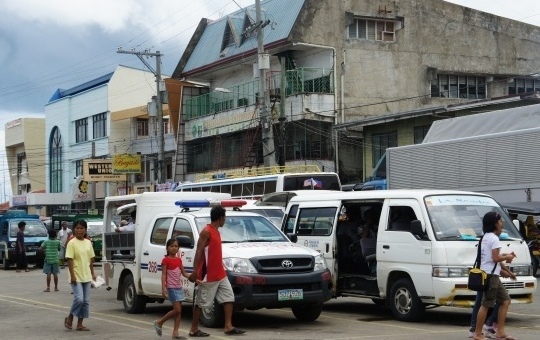 getting to talibon
To reach the Municipality of Talibon in Bohol, Philippines, there are several transportation options available:
1. By Land: From the capital city of Tagbilaran, you can take a land trip to Talibon. There are two main routes you can choose from:

Eastern Route: Take the eastern exit of the Bohol Circumferential Road, which is approximately 149.55 kilometers from Tagbilaran to Talibon.
Western Route: Take the western exit of the Bohol Circumferential Road, which is approximately 114.8 kilometers from Tagbilaran to Talibon.
2. By Interior Road: Another land option is to take the interior road via Loboc. This route is approximately 108.83 kilometers from Tagbilaran to Talibon.
3. By Boat: Talibon can also be accessed by boat. You have two
Direct from Cebu: You can take a boat directly from Cebu to Talibon. Cebu - Talibon Ferry Route Schedule Departure: Cebu - Talibon, Bohol Daily 8:00PM; Talibon, Bohol - Cebu Daily 8:00AM

Via Tubigon: You can take a boat from Cebu to Tubigon, and then travel by land from Tubigon to reach the municipality.
The port of Talibon is located on the northern coast of Bohol, about 114.8 kilometers from Tagbilaran City via the north road, 149.55 kilometers via the east road, and 108.83 kilometers via the interior road. The port serves travelers that hail from Cebu City as well as from its 8 island barangays and vice versa.

Talibon Seaport is being serviced by V.G. Shipping Lines with a Talibon-Cebu City route and vice versa. It also plays host to countless outrigger boats coming from the 8 barangays namely: Busalian, Calituban, Cataban, Guindacpan, Mahanay, Nocnocan, Sag and Suba. Outrigger boats coming from neighboring towns of Getafe, Trinidad and Bien Unido also dock at the pier.
These transportation options provide flexibility for travelers to choose the most convenient and suitable way to reach Talibon based on their starting location and preferences.