Balicasag Island Diving
Secure your Cebu Bohol ferry tickets today to start your unforgettable journey!
Balicasag Island is where you will find a 400 meter Marine Sanctuary of healthy corals with plenty of pelagic visitors characterized by vertical walls over deep waters with strong currents. Balicasag Island Diving in December or January can offer treats of Hammerhead Sharks and sometimes Whale Sharks.

A sandy shell coral line beach surrounds the island, which in turn, is fringed by a narrow reef shelf, 30-165 ft/10-55m wide. The shelf, which is 15-25ft/3-8m deep, terminates into a perpendicular underwater down to depths beyond 250ft/83m on the north and northwest face of the reef.
The top of the submarine cliffs are covered with the hard coral while lower levels are covered with sponges and gorgonians.
Recommended Bohol Philippines Tours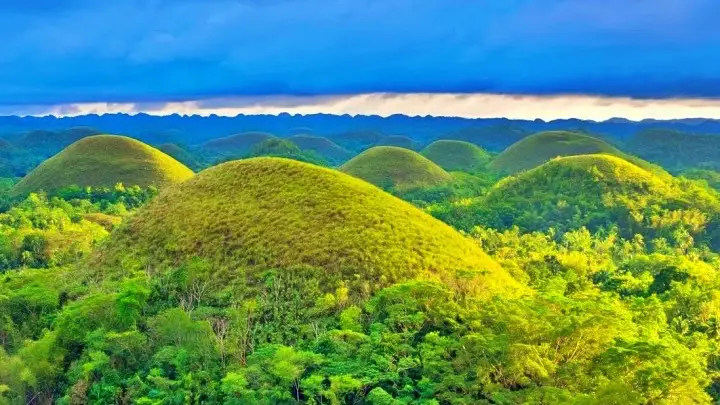 [ Bohol Sight Seeing Day Trips  - Check Out Availability ]
[ Full Day Cruise and Sailing Tours - Check out Availability ]
[ Full Day Adventure Tours - Check out Availability ]
Discover more of Bohol's natural wonders through our recommended tours. Click on the links below to embark on unforgettable adventures:
Ready to explore the beautiful islands of Cebu and Bohol? Secure your ferry tickets today through 12go and start your unforgettable journey!
A thriving fish community is found around the cliff area. Here, jacks, mackerel and barracudas are seen in abundance.

On the south and southwest portions of the shelf are wider and grades down to 60-70ft/20-23m. The slope is covered with wide patches of hard and soft coral.
The submarine cliffs are indented with caves and overhangs where large groupers, napoleon wrasses and snappers hide.
photo by glenmaclarty

photo by glenmaclarty
Balicasag Island Diving Options
Resort Wall
The wall is right in front of the resort and is excellent for diving. Reef life here is active and colorful. Current is slightly stronger than at other spots around the island. The wall starts about 30-50 meters (90-150 feet) off the beach, approximately 2-3 meters (6-9 feet) of water.
The tops of the submarine reef are flat and relatively smooth, mostly covered in seaweeds and a few rocks. Sighted are superb sea fans, lionfish, scorpion fish and other colored fishes and corals.
photo by glenmaclarty
Black Coral Forest - Balicasag Island Diving
Swim through a thick congregation of black corals surprisingly growing in shallow 30 meters (90 feet) waters at the northern tip of the Island. These corals are supposedly formed below 50 meters (150 feet).
The corals may have formed thinking that it is at deeper depth due to the shadow of the island, the coolness of the waters and the nutrients provided by currents and up swellings.
The coral trees took root on a portion of the reef where ledges and rock faces are interspersed with patches of sloping sand. The trees are set wide apart enough for a diver to fin through.
photo by glenmaclarty
Here you can sight schools of tropical fishes like the morrfish idols, batfish, lionfish, nudibranches and Spanish dancers.
The best time to dive is during a slack tide, or else make sure you have a boat ready to pick you up if the currents go strong.
Cathedral Wall - Balicasag Island Diving
Enjoy exploring the many caves and recesses of this craggy wall. A torch is needed to illuminate the caves and the activities of brilliant reef fishes that dart around colorful corals and sponges.
Schools of big jacks are often sighted idling along in the current. The wall is close to the resort situated on the southwest side of the island.
Sunny days will give a reflection inside the cathedral which is awe-inspiring and beautiful to look at.
photo by glenmaclarty
Turtle Point
Turtle Point is a place where turtles hide in caves about 20-25 meters (60-75 feet) down. The drop off is on the eastern side of the island. Patience is the key to enable one to sight a turtle.
While waiting, enjoy the cushion stars, the feather stars on the walls outside the caves and sight a vast variety of reef fish like lionfish, triggerfish, and mackerel.
photo by glenmaclarty
In shallower waters, anemones proliferate with their resident clown fishes.
The Cavern - Balicasag Island Diving
Thus called because of several small caves on the drop-off wall about 20-25 meters (60-75 feet) down.
Explore the caves and adjoining walls and more so, experience hiding inside the caverns and waiting for big fishes to pass by. The cavern is just a few hundred meters northeast of the resort.
A particularly interesting time to dive here is just before sunset – where daytime and night-time organisms change shifts to feed and breed.
Top of Balicasag Island Diving

Panglao
Panglao/Napaling Dive
Doljo Point
Pungtud Wall
Danao/Habagat Wreck Dive Site
Danao/Garden Eels Dive Site
Tawala/House Reef Dive Site
Bolod/BBC Dive Site
Danao/Crystal Sanctuary
Tangnan/Momo Beach Dive Site
Doljo/House Reef
Kalipayan Dive Site
Arco Point (The Hole in the wall)
Cervera Shoal (Spaghetti Shoal)

Balicasag Island
Rico's Wall
Rudy's Rock
Black Forest
Cathedral Dive Site
Divers Heaven Dive Site

Pamilacan Island
Pamilacan Island-Northwest Side

Cabilao Island
Cabilao Diving

Danajon Bank or Double Barrier Reef
Danajon Bank